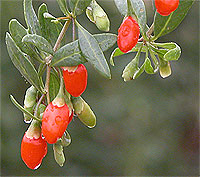 Actually, it was only 22 months ago that Time Magazine named the Himalayan Goji berry (Lycium barbarum) the breakout superfruit of the year!
There wasn't much evidence supporting that claim then, and not much has happened since — except this.
This study will make your day.
First, the details.
34 people were assigned to drink 120 mL (4 oz) of a standardized juice (GoChi by FreeLife International LLC, Phoenix, AZ) or placebo daily for 15 days.
Then, they completed a questionnaire on their subjective ratings (0-5) of general feelings of well-being; neurological/psychological traits; gastrointestinal, musculoskeletal, and cardiovascular complaints; as well as adverse effects.
Fancy stuff like body weight, body-mass index, blood pressure, pulse rate, and visual acuity were assessed before and after drinking GoChi or the placebo control solution.
No attempt was made to conceal what the participants were drinking (not blinded).
Data were statistically analyzed.
And, the results.
The volunteers were significantly happier drinking GoChi.
There was also greater contentment, and they felt healthier.
Significant differences in energy level, athletic performance, quality of sleep, ease of awakening, ability to focus on activities, mental acuity were discovered.
GoChi also significantly reduced fatigue and stress, and helped the volunteers with moving their bowels.

What! No improvement in visual acuity?

In contrast, the placebo group experienced significantly more heartburn.
But despite this, they were significantly happier by the end of the study.

Or, maybe they were just happy they were at the end of the study.

Nobody gained weight during the study.
The bottom line?
We await the retraction from Time Magazine.
5/12/08 22:41 JR