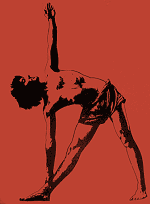 On May 19th, the National Institutes of Health (NIH) premiered its first annual Yoga Week.
Others have held yoga weeks in the past. What's different is the involvement of the NIH.
The schedule of NIH-sponsored events is listed here.
The 2002 National Health Interview Survey found that yoga is one of the top 10 CAM modalities used. Nearly 8% of those surveyed (more than 15.2 million adults) had ever used yoga for health purposes.
The bottom line?
Most interesting, volunteers are being recruited to participate in 24 federally and privately supported clinical studies of yoga on a variety of conditions.
Arthritis
Asthma
Bipolar disorder
Cancer: breast, colorectal, lung
Chronic non-specific low back pain
Dementia
Depression
Dysthymia
Epilepsy
Fatigue
Gastroesophageal reflux disease
Immune function
Insomnia
Osteoarthritis
Pain
Posttraumatic stress disorder
Rheumatoid arthritis
Smoking cessation
Stress reduction
5/21/08 20:30 JR