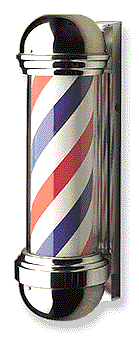 In addition to cutting hair, barbers once performed surgery (blood letting) and dentistry. Today, they're making a comeback as lay prostate educators.
Medscape reports on an abstract presented by researchers at the Moffitt Cancer Center in Tampa, Florida during the Cancer, Culture & Literacy Conference.
The concept is simple.
As part of a pilot study, barbers ask their male clients over the age of 40 if they've ever been screened for prostate cancer. A negative answer is followed by information designed to make the man aware he's a candidate for prostate cancer screening.
To prepare for their advocacy role, 8 barbers underwent 10 hours of training. They were then evaluated to confirm what they learned about prostate screening and their knowledge of prostate cancer.
The study is ongoing, but there's evidence that the barbers' clients learn that a delay in diagnosis is related to not getting the exam.
The bottom line?
Jim Wallace, a volunteer with the Florida Prostate Cancer Network, hopes additional cities will adopt a Barbers Against Prostate Cancer project.
The Moffitt Cancer Center website has more background on the project. Contact Dr. John (Juan) Luque for more information
5/24/08 19:09 JR