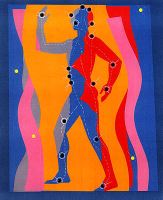 Researchers from The Great Western Hospital in the UK report that acupuncture achieved short-term improvement in function.
First, the details.
181 patients were awaiting knee arthroplasty (surgical reconstruction or replacement).
They received acupuncture or physiotherapy for 6 weeks, or standardized advice.
And, the results.
At 7 weeks, there was a 10% reduction (improvement) in the results of the Oxford Knee Score (OKS) questionnaire in the acupuncture group vs the control group.
The OKS measures changes in the ability of patients with osteoarthritis to function.
These effects were no longer present at 12 weeks.
No other significant differences were reported.
The bottom line?
Yes, some improvement was measured. But after the acupuncture sessions ended, so did the benefits. There was no effect on the patients' need for knee surgery or the time they spent in the hospital.
7/3/07 18:11 JR