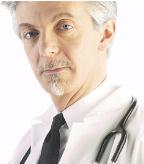 Dr. Jerome Groopman (not in the photo) — a physician and author of books about doctors and patients — discusses on CNN the 5 events that let to know when it's time to consider leaving your doctor.
It applies to CAM practitioners as well.
Do any of these scenarios apply to you?
The doctor doesn't like it when you ask questions.
The doctor doesn't listen to you.
The doctor can't explain your illness to you in terms you understand.
You feel bad when you leave the doctor's office.
You feel the doctor just doesn't like you — or vice versa.
What would be the 5 scenarios that tell your healthcare provider it's time to drop you as a patient?
8/19/07 09:57 JR