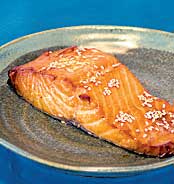 In her book, Queen of Fats, medical writer Susan Allport contends that for optimum health and disease prevention, the balance should be one to four times more omega-6 fatty acids than omega-3 fatty acids.
Here's a different view.
Researchers from the University of Surrey in the UK reviewed the results from the Optimal n-6/n-3 ratio in the UK Diet (OPTILIP) Study and a stable isotope tracer study.
Both studies concluded that the ratio of omega-6/-3 polyunsaturated fatty acids is of no value in modifying cardiovascular disease risk.
The isotope study also showed that the absolute amounts of dietary linoleic acid (an omega-6 fatty acid) and alpha-linolenic acid (an omega-3 fatty acid) contribute to the conversion of alpha-linolenic acid to eicosapentaenoic acid and docosahexaenoic acid (both omega-3 fatty acids).
The bottom line?
Stated simply, researchers from Brandeis University in Waltham, Massachusetts advise, "The absolute mass of essential fatty acids consumed, rather than their omega-6/-3 ratio, should be the first consideration when contemplating lifelong dietary habits affecting cardiovascular benefit from their intake."
We still need more omega-3.
4/13/08 10:07 JR