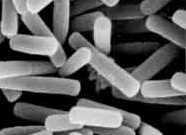 Probiotics are increasingly being used for their health benefits and are advocated by many healthcare professionals.
So, what's the problem?
The intestinal mucosa acts as a defense barrier that prevents bacteria in the gut from invading organs and tissues. Under certain circumstances these bacteria can pass through the mucosal barrier to infect lymph nodes and systemic organs via a process termed bacterial translocation.
Dr. Min-Tze Liong from Universiti Sains Malaysia says that due to the safety record of probiotics and their confusion with pathogenic bacteria, probiotics are often overlooked as contaminants and potential pathogens.
The evidence base for their use in specific clinical scenarios is strong, but they are commonly used in a much wider range of scenarios in which their efficacy is not well established.
Researchers from the University of Melbourne in Victoria, Australia tell us "Probiotics are safe for use in otherwise healthy persons, but should be used with caution in some persons because of the risk of sepsis. Newly developed probiotic strains should be thoroughly evaluated for safety before being marketed."
They continue, "It is clear that different strains can have very specific effects. Moreover their effects may vary in health and disease, in different disease states, and in different age groups. Thus, clinical trial results from one probiotic strain in one population cannot be automatically generalized to other strains or to different populations."
The bottom line?
"Probiotic translocation and infection deserve further investigation," according to Dr. Liong, "and should become a facet of safety assessment so the negative effects of probiotics do not outweigh the benefits."
4/13/08 15:40 JR