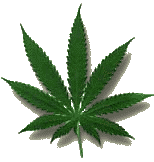 "Long-term cannabis use increases the risk of lung cancer in young adults," according to this study from the Medical Research Institute of New Zealand in Wellington.
First, the details.
The relative risk of lung cancer associated with cannabis smoking was estimated by logistic regression (calculating the odds for individual risk factors).
The group studied included adults 55 yrs of age and younger.
Lung cancer cases were identified from the New Zealand Cancer Registry and hospital databases.
The non-cancer group was randomly selected.
Interviewer-administered questionnaires were used to assess possible risk factors, including cannabis use.
And, the results.
79 cases of lung cancer and 324 people free of cancer were included in the study.
The risk of lung cancer increased 8% for each joint-year of cannabis smoking after adjusting for confounding variables including cigarette smoking.
The bottom line?
Longer duration of marijuana smoking was associated with an increased risk of getting lung cancer.
The findings in this study differ from those reported about 2 years ago. That study found no direct cause and effect relationship between marijuana smoking and the development of lung cancer.
However, as summarized here, marijuana smoking had a range of negative physiological effects on the lungs.
3/14/08 22:47 JR