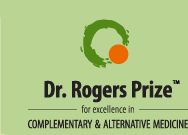 Dr. Alastair Cunningham of Toronto, Ontario and Dr. Abram Hoffer of Victoria, BC received the honor at an award ceremony in Vancouver last November.
Dr. Cunningham conducted pioneering work on the important role of the mind's effect on the immune system, particularly in cancer patients.
25 years ago, he started teaching psychological and spiritual approaches to patients and documenting the effects.
Today, The Healing Journey or Wellspring Program has helped thousands of cancer patients and their families in Canada and around the world.
Dr. Hoffer established the model of orthomolecular medicine (ie, abnormalities result from chemical imbalances or deficiencies and can be cured by restoring proper levels of chemical substances).
More than 50 years ago, he was one of the first to advance and establish the critical value of proper nutrition, minerals and vitamins in health and wellness, and the elimination of toxic foods in treating disease.
His pursuit of non-toxic orthomolecular approaches to mental and physical disorders has helped thousands of patients with conditions ranging from schizophrenia to cancer.
The bottom line?
Their contributions, although common sense today, were radical when first proposed.
The award is important because it recognizes important contributors to the advancement of CAM and healthcare. It also reinforces a historical perspective for CAM.
The Dr. Rogers Prize is awarded biennially to individuals who make a significant contribution to the burgeoning field of CAM in Canada.
1/6/08 13:25 JR