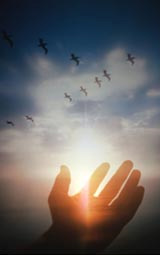 The source of forgiveness and the forgiver's expectations appear to affect the potential benefits.
First, the details.
The data come from a nationwide (US) survey of older adults.
And, the results.
Forgiving others tends to enhance psychological well?being.
And the health benefits are greater than the benefits associated with forgiveness by God.
However, forgiveness by God may be involved because older people who feel God forgives them are less likely to expect transgressors to perform acts of contrition.
People who do require transgressors to perform acts of contrition experience more psychological distress than those who forgive unconditionally.
The bottom line?
Are you up to what it takes to gain the emotional relief that comes with forgiveness?
1/3/08 14:35 JR