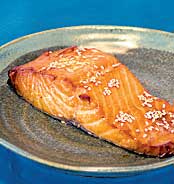 Omega-3 fatty acids, of course
There's so much good stuff it's hard to know where to start.
Here's a list of positive study results from this year.
The bottom line?
Much of this is preliminary research and nobody should consider taking omega-3 fatty acids as a primary treatment for any of them.
But the number of positive research being published using essentially cod live oil is impressive. Let's look forward to further advances.
12/22/07 20:06 JR