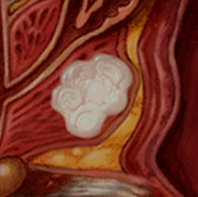 MayoClinic.com has reviewed the topic and has recommendations.
Here are the highlights.
Research does not support definite nutritional guidelines for preventing prostate cancer. But based on what we know now, here are some things to do.
Don't overeat
Avoid high-fat foods
Choose whole-grain foods, such as brown rice and whole-wheat bread.
Limit sweets and salt.
Drink alcohol in moderation
Eat a variety of fruits and vegetables.
Eat foods rich in omega-3 fatty acids
The bottom line?
Wow, these are recommendations that could be applied to everyone trying to cut their risk of any disease.
According to MayoClinic.com, the available data show there's no magic bullet to prevent prostate cancer, not selenium, not lycopene, not pomegranate juice.12/7/07 20:47 JR