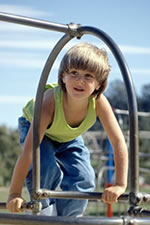 Pain is the most common symptom of rheumatic disease (mostly arthritis) in children. This review on Medscape includes cognitive behavioral therapy (CBT) and physical therapy/exercise as complementary options to other, mostly pharmacological treatments.
For the management of chronic and recurrent pain, CBT has 2 objectives.
Facilitate coping with pain or modifying the patient's pain experience
Increase the ability to adapt and minimize pain-related or "sick" role behavior
Physical therapy and exercise provide some improvement in pain and do not worsen the disease. Exercise therapy is also associated with decreases in affected joint count and disease severity.
The article concludes, "There are no current detailed treatment guidelines for treatment of pain in children with rheumatic diseases. More aggressive pain treatments should be considered in those patients who continue to have significant residual pain."
The American Pain Society published an algorithm for pain treatment in 2002. It addresses management in general terms, and states that nonpharmacological modalities should be used as much as possible.
3/28/07 22:53 JR