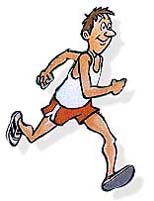 Bone-loading exercises help prevent osteoporosis.
But which ones to choose?
The American Council on Exercise is a non-profit organization that promotes active lifestyles and their positive effects, as well as protecting the public against unsafe and ineffective fitness products and trends.
It recommends squats, side lunges, and seated row.
For more information and illustrations, go here.
3/30/07 21:52 JR