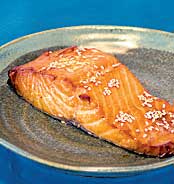 Two omega-3 fatty acids, eicosapentaenoic acid (EPA) and docosahexaenoic acid (DHA) have a number of positive actions against atherosclerosis (hardening of the arteries) and its complications.
An article by the Nutrition Committee of the American Heart Association documents the benefits, with dosing details.
The benefits.
Reduces death, nonfatal heart attack, and nonfatal stroke
Decreases progression of atherosclerosis in patients with heart disease
Here are the dosing recommendations for omega-3 fatty acids.
Patients without documented coronary heart disease
Eat a variety of (preferably oily) fish at least twice a week.
Include oils and foods rich in alpha-linolenic acid (flaxseed, canola, and soybean oils; flaxseed and walnuts).
Patients with documented coronary heart disease
Consume about 1 gram of EPA+DHA per day, preferably from oily fish.
EPA+DHA supplements could be considered in consultation with the physician.
Patients needing triglyceride lowering
Take 2 to 4 grams of EPA+DHA per day provided as capsules under a physician's care
3/21/07 20:35 JR