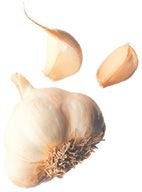 Garlic is widely promoted for its cholesterol-lowering effects, despite conflicting results from clinical studies.
Here's another negative outcome and historical perspective in the Archives of Internal Medicine.
First the results.
192 adults with mildly elevated LDL (bad) cholesterol blood levels of 130 to 190 mg/dL (3.36-4.91 mmol/L)
Randomly assigned to 1 of 4 treatments
Raw garlic served in a sandwich
Powdered garlic supplement
Aged garlic extract supplement
Placebo.
The dose of each garlic product was equal to an average-sized garlic clove (4 grams) taken 6 days per week for 6 months.
None of the forms of garlic used in this study had a significant effect on LDL-cholesterol.
The authors present a useful historical account of garlic and cholesterol.
Cholesterol-lowering by garlic is supported by positive results in about 85% of more than 110 animal studies.
Poorly designed studies in people conducted before 1995 with garlic powder tablets suggested a modest beneficial effect of garlic in adults with high cholesterol levels.
After 1995, similar doses showed no significant effects.
Notably, almost all commercial garlic supplements, especially those used in post-1995 trials, had low amounts of allicin, the active ingredient in garlic.
When I read of negative results with garlic I feel relief. Does anybody look forward to the day when millions of people use raw garlic to control cholesterol levels?
Other relevant summaries about garlic and cholesterol are here, and here.
2/27/07 09:18 JR