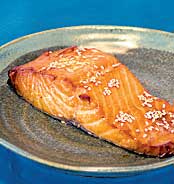 Type 1 diabetes (juvenile diabetes) accounts for 5% to 10% of all patients with diabetes.
Now, The Diabetes Autoimmunity Study in the Young (DAISY) reports an association between high dietary intake of omega-3 and a lower incidence of type 1 diabetes.
First, the details.
1770 children at risk for type 1 diabetes were monitored for about 6 years.
Risk for diabetes was defined as a genetic predisposition or a sibling or parent with type 1 diabetes.
Islet autoimmunity (IA, a predictor of diabetes) was compared to the dietary intake of omega-3 and 6 fatty acids starting at age 1 year.
And, the results.
58 children developed IA.
After adjusting for genetics, family history of type 1 diabetes, caloric intake, and omega-6 fatty acid intake, higher omega-3 fatty acid intake was associated with a significantly lower risk of IA.
The bottom line?
An "association" does not mean one factor (lower omege-3 intake) "causes" the other (increased risk of type 1 diabetes).
According to Dr. Jill Norris in a WebMD interview, "The thinking is that omega-3 may increase the body's ability to fight the inflammation that leads to type 1 diabetes."
She also cautions, "This is a preliminary study. We really can't make dietary recommendations based on these findings."
9/29/07 20:29 JR