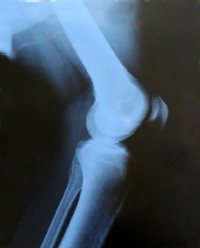 The Health and Human Services' Agency for Healthcare Research and Quality has reviewed the evidence and concludes that proof of benefit is lacking for dietary supplements, a common surgical procedure, and injected preparations.
First, the details.
The researchers reviewed data from 42 studies of viscosupplementation, 21 studies of glucosamine/chondroitin, and 23 articles on arthroscopy.
Viscosupplementation involves a series of intra-articular (within the joint) injections of hyaluronic acid.
Glucosamine/chondroitin are extracted from animal tissue: glucosamine from crab, lobster, or shrimp shells; and chondroitin sulfate from animal cartilage, such as tracheas or shark cartilage.
Arthroscopy is a surgical procedure to repair a damaged joint through a small cut in the skin.
And the results.
Viscosupplementation
Studies generally report positive scores on pain and function compared to placebo.
But it's unclear that these changes really help patients in their day-to-day activities.
Glucosamine
The Glucosamine/Chondroitin Arthritis Intervention Trial (GAIT), a large, high quality study reported, "Glucosamine and chondroitin sulfate alone or in combination did not reduce pain effectively in the overall group of patients with osteoarthritis of the knee."
However, after further analysis they reported that the combination might be effective in patients with moderate-to-severe knee pain.
Glucosamine sulfate is reportedly more effective than glucosamine hydrochloride, which was used in GAIT, but the evidence is not sufficient to draw conclusions.
Arthroscopy
The bottom line?
Focusing on glucosamine/chondroitin, the overall results of GAIT showed no benefit in people with osteoarthritis. However, when the researchers looked at smaller groups of patients within the total population, those with knee osteoarthritis and moderate-to-severe pain did report improvement with glucosamine hydrochloride and chondroitin sulfate.
Going back to reanalyze the results from an otherwise negative study in order to find any evidence of benefit is sometimes referred to derogatorily as "data dredging."
It's tantalizing to say that the GAIT study showed benefit in patients with moderate-to-severe pain, but that's an over statement. The value of "data dredging" in this case is that it supports conducting another study in this group of people.
10/6/07 11:29 JR