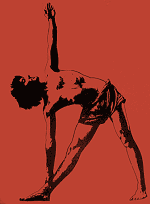 It appears to enhance emotional well-being and mood, according to researchers in New York.
128 patients were randomly assigned to 12 weeks of yoga or a wait list control group. Nearly half of all patients were receiving medical treatment.
And, the results.
The wait list control group had a significantly greater decrease in social well-being compared to the yoga group.
Among those not receiving chemotherapy, yoga was associated with significant benefits in overall quality of life, emotional and social well-being, spiritual well-being, and distressed mood.
Those who attended the fewest yoga classes were likely to have increased fatigue, radiotherapy, younger age, and no antiestrogen therapy.
The bottom line?
The authors concluded, "Yoga is associated with beneficial effects on social functioning among a medically diverse sample of breast cancer survivors."
Furthermore, "Among patients not receiving chemotherapy, yoga appears to enhance emotional well-being and mood and may serve to buffer deterioration in both overall and specific areas of quality of life."
9/9/07 19:56 JR