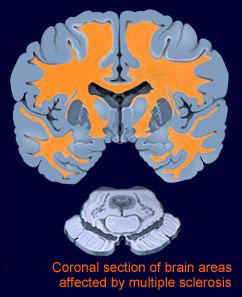 Hillary Freeman has multiple sclerosis (MS). She says, that within weeks of "regularly incorporating portions of salmon, mackerel, and sardines into my meal plans, the tingling and numbness I experienced on a daily basis subsided."
Now, research on omega-3 fatty acids (containing eicosapentaenoic acid [EPA] and docosahexaenoic acid [DHA]) conducted at Oregon Health & Science University in Portland and presented during the American Association of Naturopathic Physicians annual meeting appears to provide a rationale for her experience.
For background, matrix metalloproteinase 9 (MMP-9) levels in blood and cerebrospinal fluid are elevated in patients with MS. These patients also have lower than normal levels of metalloproteinase 1 (TIMP-1) — an inhibitor of MMP-9. The MMP-9:TIMP-1 ratio has been proposed as a biomarker of MS activity.
The results of the Oregon scientists' research in patients and in the lab reveal the following?
A 58% decrease in MMP-9 levels secreted from immune cells of MS volunteers after 3 months of fish oil supplementation compared to baseline levels.
At 3 months, both EPA and DHA levels were significantly increased in red blood cell membranes.
An in vitro study showed a significant decrease in MMP-9 levels and activity for EPA and DHA.
The bottom line?
There are a lot of details to be worked out. But based on their findings, the researchers concluded that "Omega-3 fatty acids decrease both MMP-9 levels and activity, and omega-3 may act as an immune-modulator that could benefit MS patients."
These are important changes from the assessment of omega-3 in 2005 when the Multiple Sclerosis Society Research Bulletin 51 reported…
5 well-controlled studies, largely with small numbers of participants, have been carried out in people with MS.
None reported a significant impact on disability levels.
Some suggested very slight improvements.
No worsening of MS or serious side effects was reported and fish oils are generally well tolerated.
And it's a more optimistic assessment than that published in a December 2006 InsideMS article, where Dr. Allen Bowling and Tom Stewart cautioned, it's not clear if omega-3 fatty acids really improve multiple sclerosis, although it appears to be safe.
Still, omega-3 fatty acids should never be used instead of the conventional MS treatments.
But you knew that.
9/10/07 20:46 JR