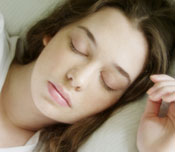 Dr. David Neubauer, assistant professor of psychiatry at Johns Hopkins University School of Medicine, has published an article on Medscape on the long-term treatment of insomnia.
Just ahead of drug treatments, he lists cognitive-behavioral therapy (CBT).
Here's why.
Effective treatment of chronic insomnia in numerous clinical studies
Long-lasting positive effects on sleep
Benefits tend to be greatest with sleep-onset difficulty
The primary healthcare provider can incorporate components of CBT into treatment
Reduces excessive emotional reactions that may perpetuate insomnia
Can reduce the association of the bed and bedroom with frustrating wakefulness during the night
Dr. Neubauer presents a comprehensive approach to treating insomnia. It should be read by those who treat and those who need treatment for insomnia.
Lots more about insomnia can be read here.
12/27/06 20:33 JR