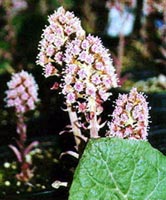 Proponents say butterbur (Petadolex; Petasites hybridus) reduces the frequency of migraines in adults, although it doesn't treat them once they occur.
Here are the results of a study in children.
First, the details.
58 patients were randomly assigned to butterbur root extract, music therapy, or placebo for 12 weeks.
All participants received additionally headache education (treatment as usual).
And, the results based on those who completed the study.
Music therapy was significantly better than placebo.
During a 6-month follow-up both music therapy and butterbur root extract were significantly better than placebo.
All groups showed a reduction of attack frequency already during baseline.
The bottom line?
These results support an earlier study in children and adolescents. Although, the reason for confining the analysis to those who completed treatment rather than the entire population of patients (intend-to-treat group) is not addressed in the abstract by the researchers.
Find Articles has a review that includes the results from 2 earlier studies of butterbur in adults with migraine. It also has safety information and recommendations for use.
8/3/07 23:02 JR