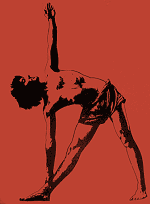 Here are the results from 3 studies of yoga for chronic back pain.
The first study included 101 people with back pain lasting 3 to 15 months. Yoga over 12 weeks was compared to conventional therapeutic exercise classes, or a self-care book
The results suggest that Viniyoga contributes to the management of chronic low back pain. The benefits persisted 14 weeks after the end of classes. Viniyoga is a therapeutically oriented style of yoga that emphasizes safety and is relatively easy to learn.
Another study of 42 patients reported significantly greater decreases in functional disability, pain levels, and medication use in an Iyengar-style yoga compared to an educational group.
The third study compared modified Hatha yoga to a waiting list control group (11 participants per group). Although several physical measures improved more in the yoga group, no such benefits were found for yoga on the measure of functional disability. And pain was not measured.
None of these studies show yoga as a panacea for back pain, but it can help in people who are committed to learning the positions. The key to success with yoga is finding a qualified yoga instructor who understands the needs and limitation of their pupils.
Some background information about yoga is posted here.
12/28/06 21:18 JR