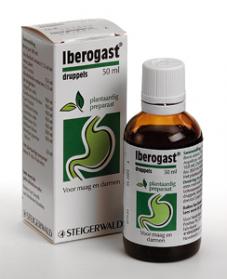 STW 5 (Iberogast) is an herbal preparation containing 9 plant extracts (including Iberis amara [Candytuft] peppermint, and chamomile). In this study, it was better than placebo in treating functional dyspepsia — a chronic or recurrent pain or discomfort centered in the upper abdomen.
First, the details.
315 patients were treated with either STW 5 or placebo.
Symptoms were assessed over 8 weeks of treatment.
The gastrointestinal symptom score — a horizontal line divided in equal segments — was used to assess symptom intensity.
And, the results.
STW 5 was better than placebo in relieving dyspeptic symptoms after 4 and 8 weeks.
The STW 5 group improved 7 points up to day 56.
The placebo group improved 6 points.
The differences were judged statistically significant.
The presence of the bacteria Helicobacter pylori did not influence the results.
No serious side effects were reported.
The bottom line?
It's surprising that a difference of 1 point was statistically significant. Too bad no information on quality of life was reported.
When many treatment options are available it usually means none of them are satisfactory. Medscape has a detailed review of treatment options, including diet, psychological therapies, antidepressants and antianxiety agents, prokinetic drugs, proton pump inhibitors, histamine-receptor antagonists, sucralfate, bismuth, and antacids.
Regarding CAM, "at least 44 different herbal products have been recommended alone or in combination for the treatment of dyspeptic symptoms." Among these, a reanalysis of data from published studies (meta-analysis) found that STW 5 was superior to placebo at improving the most bothersome symptoms of functional dyspepsia reported by study participants.
As the researchers of this study concluded, in the absence of more effective therapy, STW 5 is an option for the management of this disorder.
7/31/07 20:51 JR