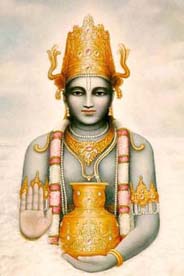 Researchers from Harvard School of Public Health in Boston believe, "the United States Food and Drug Administration and corresponding agencies in other countries should require heavy metal testing for all imported dietary supplements."
The recommendation is based on what they found among people taking Ayurvedic medicines.
First, the details.
They conducted a retrospective study of adults with lead poisoning, defined as a blood lead levels at least 1.93 mmol/L (at least 40 mcg/dL).
4 Ayurvedic-associated lead poisoning cases seen at their clinic
43 Ayurvedic lead intoxications identified by a MEDLINE search
A consecutive series of 19 lead paint removal intoxications treated at their clinic
And, the results.
Among the 47 Ayurvedic poisonings, the correct diagnosis of lead poisoning was often delayed.
At least 23% of the patients with Ayurvedic poisoning were also exposed to arsenic.
Compared to the patients with lead paint exposure, the Ayurvedic patients on average presented with significantly higher blood lead levels and greater effects on blood cells.
Ayurvedic poisoning was associated with a greater decrease in hemoglobin levels compared to lead paint intoxication after adjusting for the effects of blood lead and male gender.
The bottom line?
The researchers believe that healthcare providers should be made aware of the potential for Ayurvedic toxicity in patients with anemia who take these drugs. "Improved recognition and earlier diagnosis of Ayurvedic poisoning by clinicians may decrease complications."
Also, "use of metal-containing medications and/or those with unknown contents should be strongly discouraged."
The extent of the risk of exposure to heavy metals in Ayurvedic medicines in Massachusetts is discussed here.
8/1/07 14:10 JR