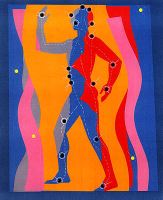 Always on the lookout for evidence of an objective response to CAM, here are the results from two studies (two decades apart) on the effects of acupuncture on itchiness caused by histamine.
Thirty-two healthy volunteers with itchy palms caused by histamine were treated with right or left ear acupuncture. Then, four weeks later, they went through the same procedure, except they received no acupuncture.
The itchiness on the same side as the acupuncture got better. By comparison, itchiness on the hand opposite to the acupuncture got worse. No acupuncture treatment resulted in worsening itchiness on both palms.
Except for the fact that in this study the needles were connected to an electrical point stimulation device, the results are similar to those reported more than 20 years ago. This older study, however, also found that the specific acupuncture site needled was important in getting the best response.
In other words, simply sticking pins in a person does not reduce itchiness. As concluded by these researchers, "acupuncture points displayed specificity in that needling near-by, non-acupuncture sites resulted in greater itching."
11/12/06 11:31 JR