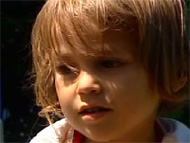 Anael L'Esperance-Nascimento (photo) is the little boy from Quebec whose parents refused a second round of chemotherapy for his brain and spinal cord tumors. Instead, Anael will be treated at the Hippocrates Health Institute in Florida.
The intent of this post is to review wheatgrass, "an integral part" of the Hippocrates treatment.
The Hippocrates website asserts, "Wheat grass is a blood purifier, cleanser, and detoxifier." "The juice is consumed orally, and used in enemas and rectal implants." The rationale for wheat grass at the clinic is that "It contains chlorophyll, which helps carry oxygen to every cell in your body. Oxygen in the body's cells helps fight off disease, harmful bacteria, and cancer."
I searched all articles in PubMed for "wheat grass." Here is a summary of results on anything related to actually treating cancer in a human.
Wheat grass juice (WGJ) reduces blood toxicity related to chemotherapy in breast cancer patients
60 patients on chemotherapy were given WGJ or placebo.
Side effects related to WGJ: worsening of nausea in 6 patients, causing cessation of treatment.
Conclusion: WGJ taken during chemotherapy may reduce bone toxicity, dose reductions, and need for treatment to increase white blood cell production, without diminishing efficacy of chemotherapy.
An 89-year-old woman with peritoneal cancer
She refused chemotherapy but accepted bovine cartilage, coenzyme Q10, and wheat grass.
Conclusion: After more than 4 years the response has been "encouraging with regards to objective and subjective measures."
In addition, the Hippocrates website and newsletter include many testimonials.
The bottom line?
The Hippocrates Health Institute is essentially a spa that educates people "about disease prevention and the affects of positive diet and lifestyle choices."
That's fine. The problem is their widespread use of anecdotal references to the cancer benefits of this treatment. As with Anael, the patients have often had surgery to remove the cancer, and then go to Hippocrates instead of going through the discomfort of follow-up chemotherapy.
Diet plus exercise is an important part of comprehensive cancer treatment. There's a strong attraction to "get right" with your diet after being told you have cancer. But don't be deceived. Based on the evidence, the chance of an existing cancer disappearing due to diet therapy rich in wheat grass is as likely as winning the lottery.
My 2 cents: Ms. L'Esperance-Nascimento, do what you feel is best for your son. But remember, for the vast majority of people, diet therapy is complementary. It's not a reliable alternative to comprehensive cancer treatment.
7/29/07 12:29 JR