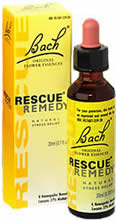 Several academics and clinicians from Miami decided it was time to test Bach Original Flower Essence (BFE) Rescue Remedy. After all, it's been sold since 1930.
Guess what? It reduced anxiety.
First, the details.
111 people aged 18 to 49 with acute situational stress were randomly assigned to the standard dose of BFE Rescue Remedy or a placebo of identical appearance.
A standard dose is 4 drops swallowed or placed in a glass of water and sipped "until the emotions have calmed."
Neither the researchers nor patients knew which treatment was used.
The Spielberger State-Trait Anxiety Inventory (STAI) — a research tool that lets patients record their anxiety level — was administered before and after treatment.
And the results.
Anxiety improved in both groups.
But the improvement in the BFE Rescue Remedy group was statistically significant.
The bottom line?
Based on these results, BFE Rescue Remedy was better than placebo. But it's unclear based on the abstract just how the BFE Rescue Remedy was taken.
The Bach website states the "Rescue Remedy is … a mix of five different remedies (cherry plum, clematis, impatiens, rock rose and star of Bethlehem), which together help deal with any emergency or stressful event. Taking a driving test, exam nerves, speaking in public, after an accident or an argument — there are countless uses for Rescue Remedy."
More about the Bach remedies is here.
6/4/07 19:45 JR