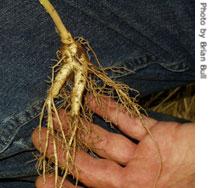 This entry goes back to the top of the gueue in light of a new study of sertraline (Zoloft). Read the comment.
This is the first study to evaluate the Wisconsin species of American ginseng as a possible treatment for cancer-related fatigue.
After verifying the quality of the herbal product, 282 patients were randomly assigned to one of 4 treatments for 8 weeks.
Placebo
Wisconsin ginseng 750 mg
Wisconsin ginseng 1,000 mg
Wisconsin ginseng 2,000 mg
And, the results with the 2 higher doses.
Improved overall energy
Higher vitality
Less interference with activity from fatigue
Improved overall mental, physical, spiritual, and emotional well-being
Patients receiving the placebo and the lowest dose of ginseng had very little improvement.
The results are being presented today at the annual meeting of the American Society of Clinical Oncology.
The bottom line?
Much research remains to be done before Wisconsin ginseng is integrated into mainstream medicine for this use.
Dr. Debra Barton, a registered nurse and the study's primary investigator, is planning another study in hopes of confirming a new treatment option for cancer-related fatigue.
6/3/07 11:28 JR