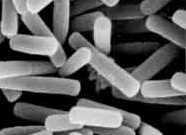 In about 25% of people, the usual triple drug therapy fails to kill the bacteria Helicobacter pylori — the cause of the inflamed stomach and ulcer.
In this study, triple drug therapy was complemented by a probiotic capsule (Probinul) and lactoferrin.
The probiotic contained Lactobacillus spp., Bifidobacterium spp, and Streptococcus thermophilus. Lactoferrin is a protein in body secretions that can kill H. pylori.
First, the details.
H. pylori infection was diagnosed in 206 people.
About half underwent standard triple therapy of esomeprazole (Nexium), clarithromycin (Biaxin), and amoxicillin (Amoxil) for 8 weeks.
The rest got the same treatment plus the probiotic and lactoferrin.
And, the results.
Among the 206 patients who started the study, H. pylori was eradicated in 73% of the typical therapy group and 89% of the typical therapy plus probiotic and lactoferrin group.
Among those who completed the full 8 weeks of treatment, corresponding rates were 76% and 92%.
Both differences were significant.
Episodes of nausea, diarrhea, a metallic taste in the mouth, glossitis (inflammation of the tongue), and stomach pain occurred significantly more often in the typical treatment group.
The bottom line?
Dr. Nicola de Bortoli from the University of Pisa in Italy thinks that combining lactoferrin and probiotics with the standard therapy "provokes a synergist effect by launching attacks from different directions against H. pylori that could lead to a complete clearance of the bacterial infection," and healing of the inflamed stomach lining or ulceration.
6/1/07 16:27 JR