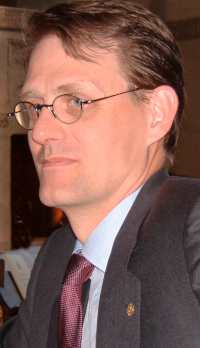 Science Business reports, "Martin Ingvar [photo] has been appointed Professor of Integrative Medicine at Karolinska Institutet in Sweden, where he will run the recently opened Osher Centre for Integrative Medicine."
American businessman Bernard Osher and Swedish-born wife Barbro Osher donated some SKr 43 million (about US$6 million) to support the position.
The Oshers have started similar centers at the University of California in San Francisco and the Harvard Medical School in Boston.
Karolinska is one of Europe's largest medical universities. It was founded in 1810 and is located in Solna, just outside Stockholm.
Thanks, for your commitment to CAM.
5/31/07 09:49 JR