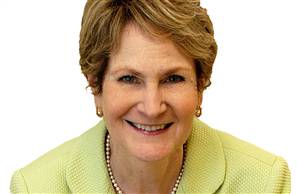 The Consumer Reports website rates volumetrics as the number one diet in terms of sustainable weight loss.
And, of course, there's a book to get you started. Lynda Lippin reviewed The Volumetrics Eating Plan by Dr. Barbara Rolls (photo), and was impressed.
"Volumetrics categorizes foods by Energy Density (ED; calories divided by grams). The foods with the highest ED are full of fats, alcohol, and carbs; the lowest ED foods are full of water, fiber, and protein."
She continues, "1/4 cup raisins has the same ED as 2 full cups of grapes. Our diet should be based on mostly low ED foods such soups, fruits and vegetables, oatmeals, and low fat dairy, with enough of the high ED food to meet our basic nutritional needs"
An article by the author is here.
Dr. Rolls has done more during her career than write books and articles. She is professor and chairperson of nutrition at Penn State University. She was president of the Obesity Society and served on the advisory council of the National Institutes of Health's Institute of Diabetes and Digestive and Kidney Diseases.
Don't forget to exercise.