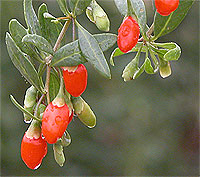 Time Magazine named the Himalayan Goji berry as the breakout superfruit of the year!
It's promoted to
protect the liver
help eyesight
improve sexual function and fertility
strengthen the legs
boost immune function
improve circulation
promote longevity
Wow! That's enough for me..
…to look for evidenced-based support.
The usual cost of a bottle of Himalayan Goji Juice is $50. If you act now, you can get it for $34.95.
Is it worth the money?
Probably not, based on the scientific data, of which, there is little.
In 66 Chinese with stable asthma, including Lycium chinense in a mixture of 7 herbs resulted in improved breathing after 10 weeks of treatment
In 70 Chinese patients with various cancers, combining Lycium barbarum with interleukin-2 (IL-2) plus lymphokine-activated killer (LAK) cells resulted in a better response rate and remissions in patients taking Lycium barbarum
Sounds good, except both studies are more than 10 years old and the outcomes have never been confirmed.
That's it.
Green tea is cheaper and probably just as good — at least.
9/2/06 21:34 JR