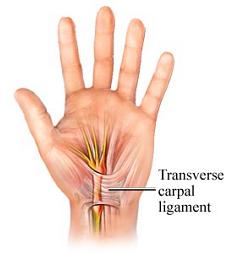 For the treatment of carpal tunnel syndrome (CTS), triple therapy that combines splinting with nerve-gliding exercises and ultrasound is superior to dual therapy that includes splinting plus nerve-gliding exercises or ultrasound.
That's the conclusion from a clinical trial of 28 women with clinical and electrophysiologic evidence of bilateral CTS.
These results support an earlier study where the addition of nerve-gliding exercises to splinting resulted in more rapid pain reduction and greater functional improvement, especially in grip strength. There is also evidence that nerve- and tendon-gliding exercises can reduce the need for surgery.
Here is a link to that describes gliding (and other) exercises, and another link with illustrations.
One word of caution, according to MayoClinic.com, gliding exercises alone may help, but are usually more effective when combined with other treatments for CTS.
7/11/06 21:41 JR