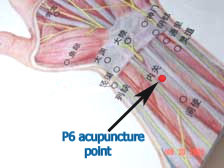 This study used Pericardium 6 (Neiguan) acupoint (photo) to reduce chemotherapy-induced nausea and vomiting.
It raises as many questions as it attempts to answer.

First, the details.
Patients were randomly assigned to acupressure applied using wristbands (Sea-Band) for the 5 days following chemotherapy or no acupressure.
Results are based on 36 patients who completed the study.
And the significant benefits of acupressure.
Less nausea and retching experience
Less nausea, vomiting, and retching occurrence and distress
But there was no difference in vomiting
The bottom line?
The reported benefits with acupressure and acupuncture to reduce nausea and vomiting have been summarized on this blog — here, here, and here.
But based on what's presented in the abstract of this study, I have some questions.
Why are the results limited to those who completed the study (and presumably had the best experience)?
Would the findings be significant if all enrolled patients were evaluated (intent-to-treat group)?
What was the difference in drug use between groups?
It's not clear why the symptom groupings were used? Why not just report differences in nausea, retching, and vomiting as individual outcomes?
My final question is why does a journal (Complementary Therapies in Medicine) that specializes in CAM research permit authors to write incomplete and misleading abstracts? It's bad for the researchers', and the journal's reputation. And it's a practice that raises doubt (whether justified or unjustified doesn't matter) about the results. It makes it easy for critics of CAM to disregard the research.
5/12/07 20:42 JR