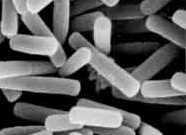 Necrotizing enterocolitis is a serious intestinal disorder. It affects 7% to 15% of very low-birth-weight (less than 1500-gram; 3.3 pound) infants. Death occurs in about 12 per 100,000 affected babies.
A review published in The Lancet concludes, "Probiotics might reduce the risk." Although important questions remain.
First, the details.
12 studies in 1393 infants were found.
7 were good enough for combined re-analysis (meta-analysis) of the results.
And the results.
Risk of sepsis did not differ between the probiotic and control treatment groups.
However, the risk of death was significantly reduced in the probiotic group.
And the time to when the infants could tolerate full feeding was significantly shorter in the probiotic group.
The reviewers concluded "Probiotics might reduce the risk of necrotizing enterocolitis in preterm neonates with less than 33 weeks' gestation [conception until birth]."
Still to be answered.
Short- and long-term safety
Dose, duration, and the best probiotics to use.
5/13/07 11:17 JR