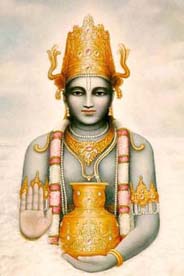 A 12-hour course in Ayurveda is being offered to American medical students, residents, faculty, and practicing physicians.
It includes two, 6-hour lectures over 2 days that will cover basic principles and concepts in Ayurveda, as well as diet, lifestyle, herbs, detoxifying and rejuvenating therapies, yoga, and meditation. Integration of allopathic and Ayurvedic treatments will also be discussed.
This last segment is particularly important, said Dr. Navin Shah, a urologist from Riverdale, Maryland who developed the program. While the limited efficacy of Western medicine in a host of chronic ailments like diabetes, hypertension, obesity, and depression have led to greater interest in alternative, traditional schools of medicine like Ayurveda, mainstream practitioners of Western medicine continue to be leery due to the lack of Western-style studies that provide evidence that alternative therapies actually work.
India West reports that the program is scheduled for the University of Connecticut and in Washington, DC, where attendees will include representatives from Georgetown University, George Washington University, Uniform Services Medical College, and Howard University, along with practicing physicians.
Background information on Dr. Shah can be found here.
5/4/07 17:11 JR