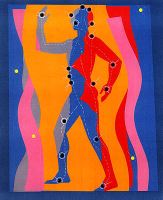 Lithotripsy is a medical procedure that uses shock waves to break up stones that form in the kidney, bladder, ureters, or gallbladder.
Researchers at Yale School of Medicine studied if the combination of auricular and body acupuncture might reduce the need for sedation during lithotripsy.
Here are the details.
More than 50 patients scheduled for elective lithotripsy procedures received either real or sham auricular acupuncture before lithotripsy plus electroacupuncture during lithotripsy.
And the results.
Patients in the real acupuncture group were significantly less anxious
They used significantly less sedative (alfentanil, Alventa; 1 mcg/kg/min) than the sham control group (1.5 mcg/kg/min).
And they reported significantly lower pain scores when they got to the recovery room.
The researchers concluded, "A combination of auricular and body acupuncture can be used as an adjunct treatment to decrease preprocedural anxiety and intraprocedural analgesia in patients undergoing lithotripsy."
These results are supported by earlier lithotripsy studies.
Acupuncture plus tramadol+midazolam (Ultracet+Versed) for pain relief
Acupuncture in the traditional Asian method plus conventional analgesia
5/4/07 20:58 JR