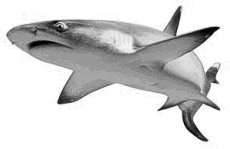 The FDA has recalled some shark cartilage capsules.
The brands are listed below. Look here for the relevant lot numbers.
Puritan's Pride
Good and Natural
Nature's Bounty
Natural Wealth
Physiologics
Rexall Sundown
Vitamin World
Yeah, yeah. It's "nature" this, and "natural" that. It's a "bounty" and "physiologic."
And it's contaminated with Salmonella.
Return the contaminated products to the place of purchase for a full refund. Or, contact the company with questions and to obtain information on how to return the product at 1-800-217-7668.
And then there's this.
The Mayo Clinic reports that in a study of 83 patients there was no difference in overall survival between patients receiving standard care plus a shark cartilage product versus standard care plus placebo.
Likewise, there was no suggestion of improvement in quality of life for patients receiving the shark cartilage, compared with those receiving placebo.
The notion that it has some value because sharks don't get cancer is — at best — unsubstantiated.
5/20/07 22:06 JR