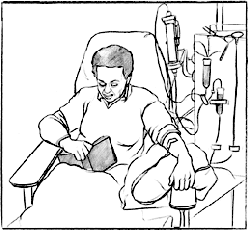 The benefits include increased muscle mass, strength, quality of life, and other aspects of health that are important to people with kidney failure.
Brilliant!
Picture a room full of people hooked up to kidney dialysis machines, each paging through mind-numbing magazines. Except for the fact that it keeps them alive, what a waste of time.
Dr. Bobby Cheema from the University of Sydney in Australia has a better idea. "We believe that exercise should be integrated as standard practice in dialysis units worldwide."
Here are the details.
49 adult patients came for hemodialysis treatment 3 times each week.
About half participated in progressive resistance training plus usual care, while the rest got usual care control only.
Progressive resistance training included 2 sets of 10 exercises using free weights.
This was intensive exercise done at a high intensity (15 to 17/20 on the Borg Scale).
The study lasted 12 weeks.
And the results as reported by Newswise.
Patients assigned to weight lifting had improved muscle mass and formation of new muscle — an adaptation associated with broad-ranging health benefits, including improved insulin sensitivity and a longer lifespan.
Increased muscle strength
Improved quality of life
Reduced pro-inflammatory markers that are associated with death from cardiovascular disease and other causes
Increased body weight
Clinically meaningful improvements in exercise endurance
"Exercise was carried out safely within the hemodialysis sessions, without any interference with routine care, and no need to change dialysis procedures," says Dr. Cheema.
Others have shown the benefits of resistance training in kidney dialysis patients. Dr. Cheema has taken the next step to combine exercise and dialysis at the same time.
4/5/07 10:26 JR