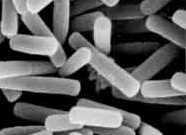 Complications of Crohn's disease (CD) lead to surgery in 70% to 90% of patients, and most of them experience a relapse.
Synbiotic 2000 consists of a mixture of probiotics and prebiotics. The rationale for its use in this study was to alter the bacteria in the colon and hopefully lower the CD relapse rate after surgery.
In a group of 30 patients following surgery, some were treated with Synbiotic 2000 and others with placebo, There was no difference in relapse rate between the 2 groups as measured by endoscopy or clinical assessment.
In an earlier entry, Synbiotic 2000 was associated with beneficial effects in critically ill trauma patients.
An abstract of a review of pre-, pro- and synbiotics — including Synbiotic 2000 — in critically ill patients by Professor Stig Bengmark from the department of hepatology, London Medical School, is here.
Lucky day. The entire article has been posted here.
4/9/07 22:32 JR