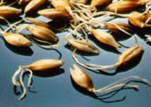 Whole-grain products that don't dissolve in water (whole wheat and brown rice) are called insoluble fiber or "ruffage." This form of fiber keeps the intestines working properly.
Soluble fiber (barley), which is sticky and dissolves easily in water, helps lower total cholesterol and LDL "bad" cholesterol in the blood, and helps regulate blood sugar in diabetics.
For blood pressure and weight control, does it make a difference in your diet, which one you eat?
Now, a study in 25 people concludes that in a healthy diet, increasing whole-grain foods — whether high in soluble or insoluble fiber — can reduce blood pressure and might help to control weight.
If you're interested…
9/24/06 20:46 JR