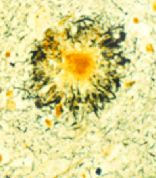 Actually, they reviewed more than CAM, but that's what will be covered here.
A rating system was used to assign the strength of the supporting evidence for each CAM treatment. So, starting from the stongest supporting research results…
Type 1a evidence (based on an analysis of controlled trials)
Aromatherapy
Bright light therapy
Both are effective treatments for behavioral problems and psychiatric symptoms
Type 1b evidence (based on analysis of at least one controlled trial)
Ginkgo biloba produces modest benefit in judgment and reasoning (cognition)
Vitamin E does not reduce the risk of developing Alzheimer's in people with mildly impaired judgment and reasoning
Type 2a evidence (based on one well-designed study)
Reminiscence therapy has a positive effect on judgment and reasoning at about one-fifth of that seen with cholinesterase inhibitors
Cognitive training does not work for rehabilitating judgment and reasoning
The authors do state however, that cognitive behavioral therapy significantly reduces psychiatric problems experienced by caregivers
Type 3 evidence (based on non-experimental descriptive studies)
Psychological interventions can improve behavioral symptoms in people with dementia
Any effect of B12 and folate await the results of ongoing studies.
Illustration: Neurofibrillary tangles and fiberlike processes of neurons (black) surround an amyloid plaque. Source: Chemical and Engineering News
10/26/06 16:26 JR