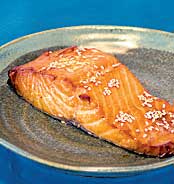 This topic is controversial, but here are the latest results supporting a role for omega-3 fatty acids in lowering the risk of colorectal cancer.
First, the details.
Fatty acid concentrations in the blood of 178 men with colorectal cancer and 282 healthy people were compared.
Dietary assessment was based on the responses to food frequency questionnaires.
And the results.
The highest blood levels of omega-3 fatty acids were associated with a 40% reduced colorectal cancer risk vs lowest blood levels.
Good, but not statistically significant.
When they removed the men taking aspirin from the group, there was a significant 66% reduced risk of colorectal cancer in those with the highest vs lowest blood levels.
"Blood levels of long-chain omega-3 fatty acids were associated with decreased risk of colorectal cancer among men not using aspirin," concluded lead author Dr. Megan Hall from the Harvard School of Public Health.
These results support an earlier study conducted by Dr. Kiyonori Kuriki from the Aichi Cancer Center Research Institute in Nagoya, Japan.
3/2/07 17:46 JR