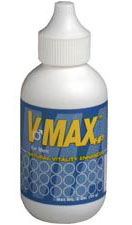 V-Max advertises itself as "a totally natural product containing herbal preparations scientifically proven to increase sexual performance and pleasure."
Apparently, one of the "natural" ingredients is aminotadalafil, similar to tadalafil (Cialis), an FDA-approved drug used to treat erectile dysfunction.
People should stop using V-Max immediately and contact their doctor if they experience any problem that might be related to taking this product. V-Max is made by Baradon SF.
Another product with the same problem is Rhino Max (Rhino V Max) supplement produced by Cosmos Trading. It has the same contaminant as V-Max.
Here's the problem.
Aminotadalafil might interact with nitrates found in some prescription drugs (such as nitroglycerin) and may lower blood pressure to dangerous levels. People with diabetes, high blood pressure, high cholesterol, or heart disease often take nitrates.
3/20/07 00:23 JR