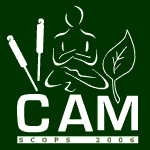 Medical students have a long-standing interest in learning more about CAM.
Here's what they think at Georgetown University School of Medicine in Washington, DC.
More than 250 preclinical medical students were surveyed.
91% agreed, "CAM includes ideas and methods from which Western medicine could benefit."
85% agreed, "knowledge about CAM is important to me as a student/future practicing health professional."
75% felt that CAM should be included in the curriculum.
The areas where they wanted more training
Acupuncture
Chiropractic
Herbal medicine
Nutritional supplements
Areas where they could envision referral to or provision of services included?
Acupuncture
Biofeedback
Chiropractic
Herbal medicine
Massage
Nutritional supplements
Prayer
Meditation
In 2006, the American Medical Association, in response to a resolution from the Student Section of the AMA, adopted a resolution that promotes education of medical doctors and medical students on the ?benefits, risks, and efficacy? of CAM.
More than 10 years ago, the American Medical Student Association prepared an introductory guide to complementary medicine.
2/10/07 08:15 JR