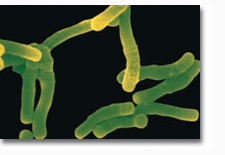 Helicobacter pylori is a common infection of the stomach. Although most people have no symptoms, it's related to the development of ulcers and is probably related to cancers involving the stomach.
Currently, H pylori infection is treated with a proton pump inhibitor plus two antibiotics — called triple therapy. Adding a probiotic food to triple therapy does not appear to help eliminate this bacteria in children.
Among 65 children treated for one week with triple therapy, some got 3 months of the probiotic food (250 mL of a commercial yogurt containing Bifidobacterium animalis and Lactobacillus casei) while the others got milk.
By the end of the study, adding probiotic food to triple therapy did not make a significant difference in the eradication of H pylori infection.
Two good reviews of H pylori. Infections are available here and here.
1/17/07 20:12 JR