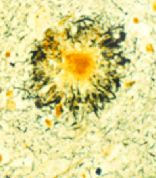 The journal Archives of Neurology just published a observational survey where it appears that "individuals who take in higher levels of the nutrient folate through both diet and supplements may have a reduced risk of developing Alzheimer's disease."
Before you take off for the Vitamin Shoppe, read on.
This was a large survey (965 individuals without dementia) of mostly women (70%) with an average age of 76 years who were followed for 6 years to see who developed Alzheimer's disease. Most were Hispanic (45%), while the rest were Black (33%) or Caucasian (22%).
After adjusting for a range of variables it was found that higher folate intake was modestly correlated with lower homocysteine levels — "indirectly suggesting," according to the researchers, "that a lower homocysteine level is a potential mechanism for the association between higher folate intake and a lower Alzheimer's disease risk."
The bottom line?
The researchers concluded that definitive recommendations about folate and Alzheimer's disease cannot yet be made. These results are in contrast to some other research.
Until more is learned, "The decision to increase folate intake to prevent Alzheimer's disease should await clinical trials."
1/8/07 21:42 JR