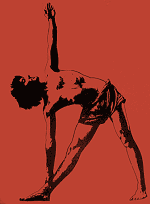 According to these study results, yoga complements the treatment of irritable bowel syndrome (IBD).
Twenty-five adolescents aged 11 to 18 years with IBS were randomly assigned to yoga or a wait list control group. Those assigned to yoga received one-hour of instruction, demonstration, and practice. Over the next four weeks they practiced yoga at home with the help of a video.
And the results in the yoga vs the wait list group.
Lower levels of functional disability
Less use of emotion-focused avoidance
Lower anxiety following the intervention
Lower scores for gastrointestinal symptoms and emotion-focused avoidance
The bottom line?
These adolescents found yoga helped and indicated they would continue to use it to manage their IBS.
Was it the yoga or simply a response to an activity that gave these young people a sense of greater control over their condition? I don't know, but they concluded that their IBS improved, and that really is the bottom line.
Maybe the researchers will follow-up in six months to see if the commitment to yoga and the improvement last.
12/10/06 10:48 JR