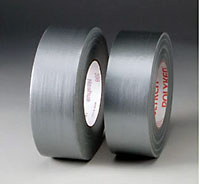 Several years ago duct tape became popular as a treatment for warts (Verruca vulgaris) after it was reported that complete resolution occurred in 85% of patients treated with duct tape vs 60% of those treated with cryosurgery.
Now, another study disputes the value of duct tape.
When compared to placebo treatment in children aged 4 to 12 years with warts, six weeks of nightly treatments using duct tape stuck to the wart had no effect on healing.
The researchers in the latest study have no explanation for the differences in response. The treatment routines were not exactly the same, but the difference between an 85% response in the first study and a 16% response in the latest study is awfully large. Placebo treatment had a 6% total healing rate.
In children it appears that duct tape is not a reliable treatment for warts. If they are large and bothersome, see a doctor for a comprehensive evaluation and treatment plan.
de Haen et al. Arch Pediatr Adolesc Med. 2006;160:1121-1125.
12/26/06 20:41 JR